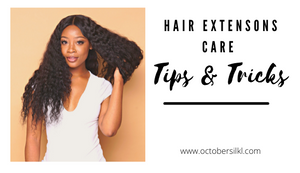 October Silk Hair Extensions
At October Silk, we like to remind our Silk Dolls that their hair is an investment in themselves… And like any good investment, you should always expect to receive a great return as time goes on, right? Well, allow us to provide you with a few tips and tricks from our Silk Experts on how to maintain and get the most use out of your October Silk Hair Extensions. This guide will tell you everything you need to know about managing your investment from washing to drying and even styling!
Installing Your October Silk Extensions: When getting your extensions installed, we recommend using the "Fold-Over" method. Using this method allows you to get a fuller look without wasting your hair by cutting the wefts, unnecessarily. Please note: Cutting or piercing the wefts would not only waste the hair but it can also lead to shedding and further damage. If the weft does require cutting, we ask that you seal the weft with a high-quality weft sealant to promote any shedding that may come as a result. During installation, we suggest not allowing the weft to be directly installed on top of the scalp, as this can damage both the scalp and the growth of the natural hair underneath the install. A small amount of weft shedding is normal. Our natural hair sheds 50 to 100 strands a day. Our wefts are made to last, so don't worry, shedding won't be a problem with proper maintenance.
Coloring Your Hair: When wanting to color your hair, we strongly advise speaking with a professional first. Over-processing of the hair can result in the damaging of the entire weft, cuticles, and will shorten the lifespan of your October Silk Hair Extensions. Using products such as bleach and other chemicals can significantly reduce the quality of your hair extensions. We suggested using  10 to 20 volume if you  choose to color your extensions. Also use color treated shampoo and conditioner.
Maintaining the Silk Look: To maintain your "fresh out of the salon" look, we recommend a few basic care steps:
Shampoo extensions with cool/warm water once a week.
Do not wash the hair excessively or with harsh products as this will promote dry and brittleness.
Be mindful of over-styling/manipulating the hair. Excessive styling can cause damage to the hair and will also reduce the life of your October Silk Hair Extensions.
Use a Sulfate free /moisturizing shampoo's and conditioner
We suggest reinstalling your extensions every 6 to 10 weeks. Wearing your extensions over 10 weeks can reduce it's longevity.
Hair Care for Travel:
October Silk Hair Extensions forewarns against exposing hair to raw sunlight, tanning beds, and UV rays.
Both Chlorinated and Saltwater contact with the hair is not recommended by October Silk Hair Extensions. Chlorinated Water can have the same affect as chemically processing the hair, which will ultimately result in hair damage.
Both UV rays and Saltwater can also damage the hair by stripping it of its color and altering the texture of the hair. Please make sure to properly cleanse the extensions.
Exposing the hair to these conditions can not only damage the hair but can also cause the extensions to detach and slide farther away from the hair.
Keep in' It Hot: To keep your hair looking amazing and fresh, we recommend not using excessive heat on your extensions.
Like your own hair, extensions should be treated with the same cautions when considering applying heat to it.
We advise against using Blow-Dryers, Flat Irons, and Curling Irons with temperatures over 400 degrees. As excessive heat will cause the hair to become brittle leading to shedding.
If heat is applied to the hair, we ask that the hair be protected with a thermal protectant spray/serum.
Thermal Protectant Spray/Serum will keep the hair intact, reducing the possibility of the hair splitting, becoming dry, or shedding.
Brushing Your Hair: While brushing is important to maintaining the health of your hair, we ask that you brush your hair without being too harsh on it.
Brushing or pulling your hair too harshly can cause the extensions to loosen and ultimately slide out of the hair.
We recommend brushing the hair 3-4 per day to reduce the occurrence of tangling.
When brushing, please begin at the top of the weft and work your way down to the ends of the hair.
If tangling does occur, hold onto the bonding point of the hair and remove the tangle, lightly.
*On the Silk Tip: Using a silk bonnet or headscarf before bed also helps to retain the health of your October Silk Hair Extensions. The scarf or bonnet can be applied along with flexi-rods for bountiful curls or a nice sleek ponytail to maintain that beautiful silky-straight texture.
Hopefully these tips will provide longevity for your extensions. October Silk Extensions are soft as silk but made to last.